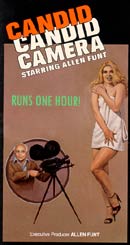 Candid Camera Video



"Candid Candid Camera" Adult-Content Video

- Based on Allen Funt's hit film "What Do You Say to a Naked Lady?" this one-hour video includes hilarious gags, for adults only. These are the sexiest escapades ever in the history of the hidden camera. It's a side of "Candid Camera" that can't be presented on regular TV! On VHS tape. NOTE: This program contains full nudity and occasional adult language and may not be purchased by anyone under 18.



Candid Candid Camera. $24.95.