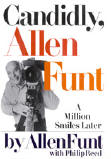 Allen's Book



"Candidly, Allen Funt" - The first-hand story by Allen Funt, from his radio show in the army to his network TV hit. The 240-page hardcover book also includes exclusive photos from Allen's album. And, when you buy the book you receive Allen's All-Time Funniest Moments video as a free gift!

To read Chapter One, click here.

A great read for $22.00.