Candid Camera Means Business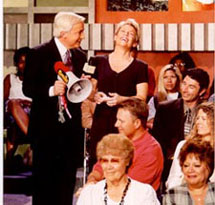 The Candid Camera Library contains a wealth of material for use in the corporate world -- from meeting openers, to training aids, to pure entertainment for the business audience.

Peter Funt, Candid Camera's host, is also available to speak to your business group, using Candid clips to punctuate an entertaining and informative presentation.

Here are a few professions and industries for which there are dozens of on-point Candid Camera sequences from which to make your selection:
* Law
* Medicine
* Food Service
* Travel
* Education
* Construction
* Sports and Fitness
* Entertainment
* Gadgets
* Pets and Animals
* Banking and Finance
* Fashion
* Police and Security
* Technology
* General Retail
* General Corporate/Office
To design a presentation for your company or group, and to learn more about available sequences, the first step is to send an email outlining your needs.
Click Here to contact us.